Update 1.1.4.0 - Content and Fixes
---
Update 1.1.4.0 includes a bunch of new editions to the game, including a new item and unit, the Star Robe, and Mounted Crusader respectively. Alongside this there is also a new item script that can be used by modders to allow their items to generate resources.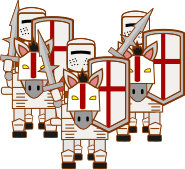 The mounted crusader is the strongest cavalry in the game, with the ability to heal other units, block incoming attacks and increases in strength with your heroes crusader abilities. You can recruit these powerful knights through unique structures available to the crusader lord class.

There have been modifications made to the title battle screen to show off the crusader units, as well as many modifications to sprites that currently exist within the game to smooth out their animations in battle. The AI can now also better plan out its attacks and strategy through saving and loading, meaning its long term plans now stay consistent.
One last small quality of life addition allows players to bring up a basic visible grid over the scenario by pressing the "G" Key.
As usual many bugs have been fixed, including 2 rare crash bugs relating to army ID's and notifications.
Files
Risen Kingdoms Free Installer 1.1.4.0
56 MB
Aug 05, 2022
risen-kingdoms-free.zip
43 MB
Aug 05, 2022
Risen Kingdoms premium installer 1.1.4.0
56 MB
Aug 05, 2022
risen-kingdoms-windows.zip
45 MB
Version 1.1.4.0
Aug 05, 2022