Update 1.1.2.0 AI, Vassals and Improvements!
---

Welcome to Update 1.1.2.0
This update mainly concentrates on improving the AI, you'll notice AI players moving more armies around instead of hunkering down in their cities.
Improvements have also been made for AI players that are vassals, tributaries for example will no longer create armies to attack their enemies, instead they will simply build a defending army to defend themselves while providing as much tribute to their liege as possible. Vassals that are tributaries will continue to use diplomacy to help their liege and try to bribe other players into attacking their enemies however.
Of-course you can always allows your vassals to act more aggressively by making them semi independent, which will allow them to act very much like an independent player, creating armies for defensive purposes as well as offensive. However if your in an extensive war this can drain a vassals resources fairly quickly.
With this in mind I've created a new type of vassals for players with the liege lord skill set; the Aggressive vassal type.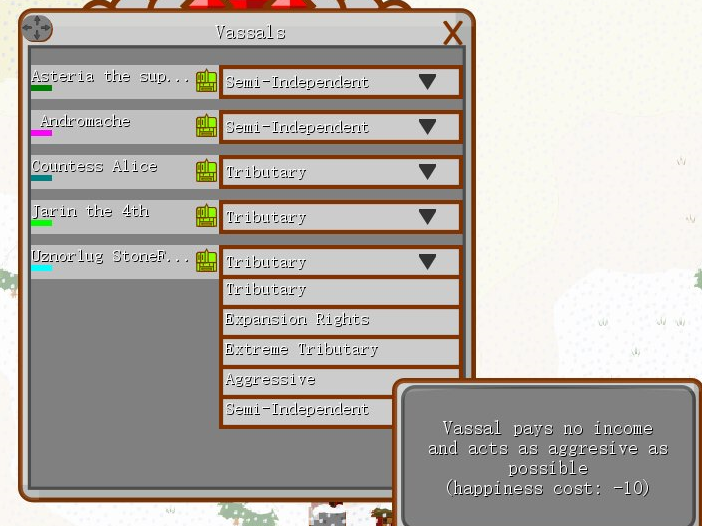 This type of vassal will fully commit their units to offensive purposes, so much so that they will leave little to no units to defend their cities. This becomes useful when you have vassals far behind the lines of battle or are readying up for a final push towards an enemy. Should an enemy manage to attack their cities however expect to lose them fast.

Apart from these changes I've corrected several crash errors and bug fixes, as well as spelling mistakes within the UI (including the one shown above).
Thanks for following Risen Kingdoms and i'll see you in the next update :)
Files
Risen Kingdoms premium installer 1.1.2.0
55 MB
Feb 07, 2022
risen-kingdoms-free.zip
42 MB
Feb 07, 2022
Risen Kingdoms Free Installer 1.1.2.0
55 MB
Feb 07, 2022
risen-kingdoms-windows.zip
45 MB
Version 1.1.2.0
Feb 07, 2022